Horses for Sale
Looking for a TOP class dressage horse? Have a look at our horses below.
Are you looking for a specific horse we can always assist you in this please fill in the contact form.
You can also call +31(0)653143806
Gianno RQ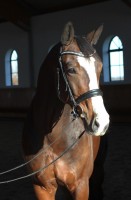 Gianno RQ
2011
Gelding
bruin
168
Krack C
Gianna naninni


Description
Een hele mooie opvallende verschijning. Super lief en aanhankelijk karakter. Een ruin met veel kwaliteiten voor de toekomst.
Elegant paard. Afgericht op z niveau en kent een beginnende wissel.
voor meer informatie bel; 0653143806 of mail naar info@silverdalestables.nl
Pictures